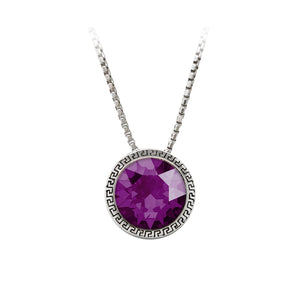 ORIGINALITY • INTUITION • CURIOSITY
February's children are tremendously innovative, whether intuitively bringing joy and harmony to those around them, or ingeniously making sense of the scientific universe for the good of all mankind. The Amethyst Crystal provides wisdom and sobriety throughout this journey. Wearing the February Greek Key Necklace enables you to identify with your birth month and connect with your unique innate energies.
Made with an 8mm Crystal from Swarovski®. 
Outfitted on an
a
djustable Sterling Silver Round Box chain, secured by a premium pear-shaped lobster lock.
Style No. WF-3602