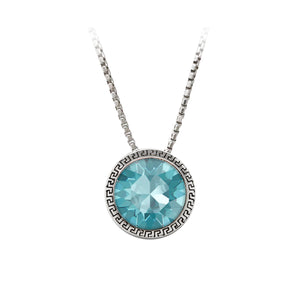 PURITY • PHILOSOPHY • GUIDANCE
Those born in December are natural educators, highly knowledgeable and disciplined, yet always seeking new experiences. They are collectors of truth and are quite skilled at sharing it. The Blue Topaz Crystal provides fidelity and tranquility throughout this journey. Wearing the December Greek Key Necklace enables you to identify with your birth month and connect with your unique innate energies.
Made with an 8mm Crystal from Swarovski®. 
Outfitted on an
a
djustable Sterling Silver Round Box chain, secured by a premium pear-shaped lobster lock.
Style No. WF-3612