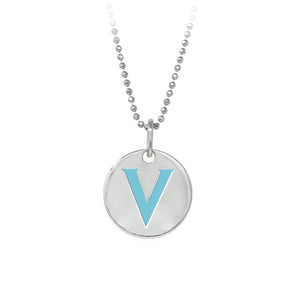 VALOR • VIRTUOSITY • VALUE
People with the letter "V" in their names are fair, honest people who make wonderful allies. They are loyal and genuine. "V"s are very industrious and produce beautiful results. Practicality is a strong point with them. "One step at a time" is their motto. They are good natured and very sociable, sensitive and emotional. Above all, they are passionate about their feelings.
Mix and Match your Delicate & Dainty Necklaces to dazzle your look in seconds.
Outfitted on an adjustable Sterling Silver Ball chain, secured by a premium pear-shaped lobster lock.
Sterling silver

5/8" diameter pendant

Adjustable to 15", 16" or 18"

Style No. WF-3171